23 Jun

Enhanced Cognitive Twin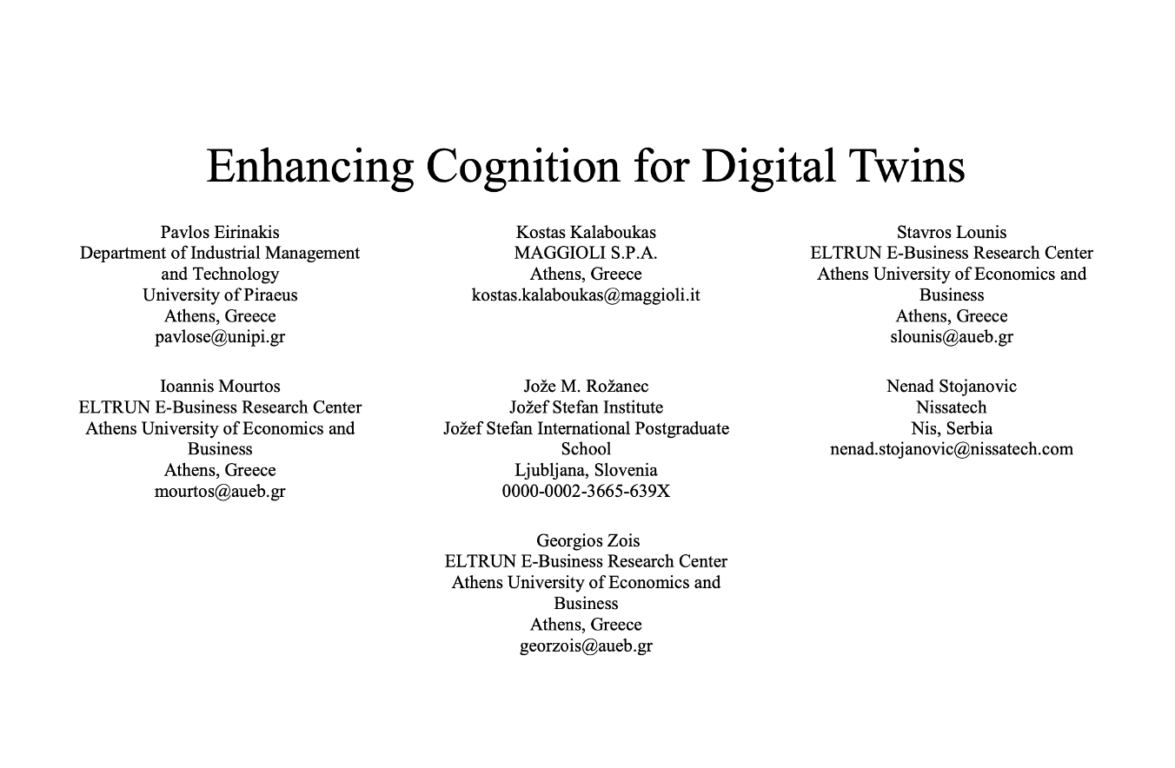 In the course of the FACTLOG project the new concept of the Enhanced Cognitive Twin (ECT) was formulated. The ECT constitutes a new type of Digital Twin that is on the one hand able to reason and provide insights through its cognitive abilities but also able to self decide its future states at a narrow or broad scope, utilizing optimization algorithms.
The Enhanced Cognitive Twin concept was presented at the 26th ICE/IEEE International Technology Management Conference – "Digitalization through Digital Twins – Innovation in the analysis and management of environmental and physical engineered complex systems" held on 15th -17th June 2020 –  with the paper entitled "Enhancing Cognition for Digital Twins".
The paper is a joint partner effort from the ELTRUN E-Business Research Center of the Athens University of Economics and Business, the University of Piraeus, Maggioli S.P.A, the Jožef Stefan Institute and Nissatech.
Enhancing Cognition for Digital Twins
Abstract
In the era of Industry 4.0, Digital Twins (DTs) pave the way for the creation of the Cognitive Factory. By virtualizing and twinning information stemming from the real and the digital world, it is now possible to connect all parts of the production process by having virtual copies of physical elements interacting with each other in the digital and physical realms. However, this alone does not imply cognition. Cognition requires modelling not only the physical characteristics but also the behavior of production elements and processes. The latter can be founded upon data-driven models produced via Data Analytics and Machine Learning techniques, giving rise to the so-called Cognitive (Digital) Twin. To further enable the Cognitive Factory, a novel concept, dubbed as Enhanced Cognitive Twin (ECT), is proposed in this paper as a way to introduce advanced cognitive capabilities to the DT artefact that enable supporting decisions, with the end goal to enable DTs to react to inner or outer stimuli. The Enhanced Cognitive Twin can be deployed at different hierarchical levels of the production process, i.e., at sensor-, machine-, process-, employee- or even factory-level, aggregated to allow both horizontal and vertical interplay. The ECT notion is proposed in the context of process industries, where cognition is particularly important due to the continuous, non-linear, and varied nature of the respective production processes.